Largest video board in college athletics? Auburn University claims that honor, at least for this year, debuting a new 10,830-square-foot board in August. It's been a point of distinction proudly displayed during the current football season.
Another point of distinction on display among this season's football elite? Uniforms. College athletics has become a big business poised to only get bigger, and the nation's largest apparel companies are battling to grab the biggest piece of the pie. The three major players, Adidas, Nike and Under Armour, are outbidding each other by record numbers to gain what is considered prime advertising real estate — college athletes whose games are broadcast for millions to see.
The three have poured a combined $250 million into college apparel contracts over the past year, according to the Portland Business Journal. Most recently, the University of Michigan signed a historic apparel contract with Nike that runs from August 2016 through July 2027. The contract will outfit all 31 Michigan athletic programs in Nike uniforms, footwear, apparel and equipment. Michigan will receive a total of $122.32 million from Nike during the duration of the contract — half in cash and half in apparel. Michigan also has the option to extend the contract for an extra four years — for an extra $47 million.
With the new contract, Michigan breaks ties with Adidas, with whom the school had a 10-year, $82 million contract that ends in July 2016. The new contract marks a 37 percent increase per year compared with the school's Adidas contract.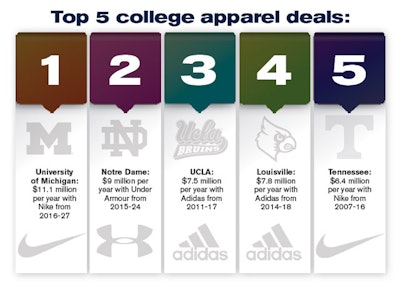 Nike and Adidas have largely dominated the market for college apparel contracts, but newcomer Under Armour is proving itself a force to be reckoned with. Its 10-year, $33 million agreement to provide cash and gear to the University of Maryland (company founder Kevin Plank's alma mater) is one indication of a relationship beginning to mirror that between Nike founder Phil Knight and his former school, the University of Oregon. And just prior to the Michigan-Nike deal, Under Armour inked a 10-year contract with the University of Notre Dame for a rumored $90 million — grabbing, for a few sweet days, the largest apparel deal in the history of college sports.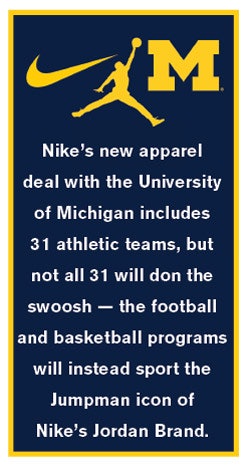 Though fast emerging as an industry player, work remains to be done if Under Armour hopes to close a still sizeable revenue gap. While Nike generated $27.8 billion in revenue in 2014, and Adidas garnered $19.2 billion, Under Armour attained approximately $3 billion. (The disparity is manifest at the professional level, as well. Last season, 283 of the NBA's 440 players wore Nike shoes — 322 if Nike's subsidiary Jordan "Jumpman" brand is added. By comparison, Adidas claimed 70 NBA players, and Under Armour a mere 13.)
Under Armour also has deals with several other power conference schools, including Auburn and the University of South Carolina, and hopes to add more to its list when the Adidas and Nike contracts at several high-profile schools expire in the coming year. One school that is rumored to be making the move to Under Armour is the University of Wisconsin, whose contract with Adidas ends in 2016.
Schools that opt to stay loyal to a particular brand can see a payoff. Clemson University extended its deal with Nike, jumping from an annual payout of just $1 million in cash and equipment to $2.9 million. The University of Arizona did likewise, getting a boost to $3.8 million annually, though the Wildcats' open-market value was believed to be greater than that. (Rival Arizona State switched to Adidas for $4.2 million annually.) Meanwhile, Indiana University's renewed contract with Adidas nearly doubles its payments from $3.7 million per year to $6.7 million.
---
This article originally appeared in the October 2015 issue of Athletic Business with the title "Game On: The Athletic Department's New Clothes"