This article appeared in the July/August issue of Athletic Business. Athletic Business is a free magazine for professionals in the athletic, fitness and recreation industry. Click here to subscribe.
Whether it houses professional sports competition or the efforts of amateur body builders, an athletics facility should communicate to visitors its own purpose and its occupants' pride. It can be a subtle sales pitch toward fans or a "wow factor" push for recruits, but there should be no doubting the destination's sense of place upon arrival.

Bill Van Cleve puts facility branding under the umbrella of Marketing 101. "Let your customers know who you are," says Van Cleve, president and CEO of Paragon Design + Display in Ann Arbor, Mich. "Create an environment of tradition, history, accomplishments — a place they would want to attend, a place to be proud of."
"In many cases, it's part of a really big picture," says Michael McClurg, president of facility brand design firm Forty Nine Degrees in Coldwater, Ohio. "If done right, it will engage fans and recruits at a high level and not only reinforce the brand, but also tell a story. Branding will increase the effectiveness of recruiting and engage fans to trust and feel more a part of the brand they are supporting."
Cultivating a long-term relationship between organization and facility patron is key, says Christine McKelvey, marketing and art department manager for Sarasota, Fla.-based Stewart Signs. "Branding sets you apart and creates customer awareness," she says. "Over time, it also creates a sense of familiarity, which is important. We all tend to do business with organizations we're familiar with."
How does one go about maximizing a facility's branding effectiveness? Here are seven steps: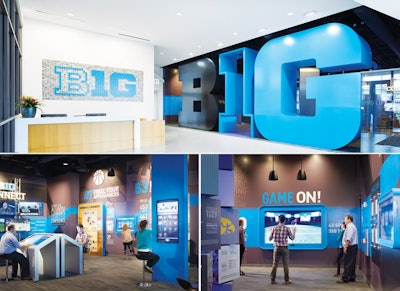 1. RESEARCH WHAT'S OUT THERE
Before investing in a branding initiative, discover what similar facilities have done through site visits, interviews and online research. "Find out what worked for them and what didn't work," says Jim Lutz, president of Arena Graphics in Gaithersburg, Md. "Do your homework before you hire a firm that charges you for designing a look or a brand that you could have come up with through a little bit of research on your own."
That said, research conducted by an external firm can aid a client's appreciation of its own market position. "This is an extensive process," says Todd Austin, president of Nashville, Tenn.-based branding design firm Advent. "When we come back with our findings and recommendations, it's like people are seeing themselves clearly for the first time. I think our clients love that, because that clarity helps them with so many things other than the specific assignment they've given us."

2. ESTABLISH A BUDGET AND INVEST WISELY
Branding and its associated costs should be a line item beginning in the earliest stages of facility design. "It really is just about finding the most interactive way to tell the story on budget," McClurg says. "Each client is different and each has its own approach."
McClurg recommends soliciting input from administrators and other building occupants (coaches, for example) regarding the branding's communication objectives, but seeking outside expertise, as well. "If planning a new building, engage a design consultant early to work in harmony with the architectural firm," he says. "This allows for more purpose in design and avoids extra costs."
The ultimate goal is to influence facility visitors in a positive way, and that's not an insignificant task, says Austin. "Figuring out how to persuade people takes thought, and it often requires an outside, expert perspective," he says. "Make sure the company you're working with has a deep background in brand, not just graphics. If you have an agency partner, they may have the expertise to help you figure this out, depending on their focus."

3. EXPLORE ALL BRANDING OPTIONS
Myriad facility branding delivery systems exist — from easily updated banners and sidewalk decals to interior wall graphics and interactive digital displays. Content can take the form of organizational logos, larger-than-life photos, inspirational quotes and historical timelines, to name a few.
For facilities willing to invest in the technology and its maintenance, digital displays are a flexible alternative to static graphics. "Digital displays allow you more depth — you can communicate more in the same amount of space," Austin says. "You also get the potential benefit of motion, which can draw the eye more effectively — if done correctly — than a still image. Finally, if you make the display interactive, then you expand the experience to one in which the audience has some control over what they want to learn or do. It's more of a two-way conversation, which is always a good thing."
For many facilities, three-dimensional displays — backlit lettering protruding from a wall, for example — offer a comfortable middle ground between flat graphics and the digital experience. "Dimensional pieces are a popular branding technique because they look sleek and engage texture and detail," says Evan Diener, director of Detroit-based Fathead PRO Installs. "Small or large, they provide a modern effect."
Regardless of the delivery modality — and any one facility is free to incorporate them all — virtually no corner of the building is off limits to branding. "It's amazing what you can do to otherwise obscure areas like stairwells and bathrooms — taking the building's existing brand into all areas of the building," Lutz says. "View-through window graphics can add brand appeal to a facility's exterior while not taking away the importance of natural light or scenic views from inside the building. These techniques are relatively inexpensive and easy to change out over time."

4. KEEP THE LOOK CONSISTENT
An integrated branding approach should carry from the building exterior to its interior. "Create brand guidelines for use in all of your materials so there is a consistent, identifiable look," McKelvey says, adding, "Incorporating your updated brand into your outdoor signage is key to reaching drive-by and walk-by traffic."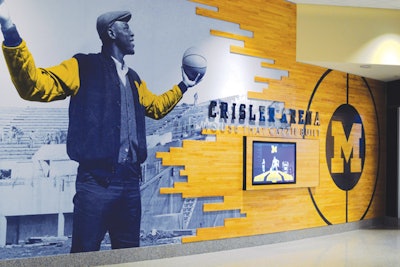 5. DESIGN FOR MAXIMUM IMPACT
"Prioritize heavy traffic areas to maximize investment and impact," Diener says. "A full wall graphic can be more impactful and cost-effective than smaller graphics on multiple surfaces."
Outdoor signage must meet more stringent legibility standards than G displays. A common mistake, McKelvey says, is "making your sign header or LED graphics too crowded or small so that they're difficult to read. It's important to consider traffic speed and distance from the road when making these decisions."

6. MAKE A LASTING IMPRESSION
Quality of materials used is critical to the initial impression and physical staying power of any branding initiative. "The finish and the installation are very important," McClurg says. "You have to make sure the quality of the company, and that the quality of product being installed does not look cheap and work against your brand."
Adds Barbara Newsome, owner of DDI Signs in Kill Devil Hills, N.C., "The last thing a facility needs is to spend money on signage, then a year later it is faded or falling apart, making the building look run down."
Longevity also hinges on keeping the branding fresh. "I think it is essential to pick a design theme that is timeless — something that will look good years down the road, while also having the flexibility to make small changes or additions to the graphics after the initial project is completed," Lutz says.
Subject matter may get stale, as well, adds Van Cleve. "Be careful of the images and people used in a display," he says. "Some may go out of favor quicker than one thinks."
The freshness aspect is where a digital display's effectiveness truly comes to light. "Digital allows for interactivity, movement and sound — which is what people want to see more of. People want to be engaged," McClurg says. "Although higher in cost up front, it is very cost-effective to add new content versus purchasing new physical displays. Things will not get outdated as fast."
"Proper software allows you to schedule in advance and have messages expire on a certain date," adds McKelvey. "They're removed automatically from your sign's play list so your messages are never out of date."

7. DON'T OVERDO IT
Says Fathead's Diener, "A common mistake made when branding is trying to include too much in a space — using too many photos and including too much information."
Van Cleve agrees. "Less is more," he says. "Don't turn your space into a carnival. Putting up too much branding makes it look cheaper and more amateurish."
Perhaps the biggest mistake that facility owners can make is underestimating the power and importance of facility branding. "If they are building a new facility, many times they do not think about or budget for the branding and signage until they are about to open," Newsome says.
By then, first-impression opportunities could be missed. Says Lutz, "Any facility owner or operator who is looking to improve the overall visual appeal of his or her facility should turn first and foremost to graphics and branding as an easy and relatively inexpensive way to accomplish that."
"That moment when visitors walk into your space is your golden moment," says Advent's Austin. "It is the one moment in your relationship with them when you control all the messaging. Why wouldn't you take advantage of that?"
---
This article originally appeared in the July/August 2016 issue of Athletic Business with the title "Speak Volumes"