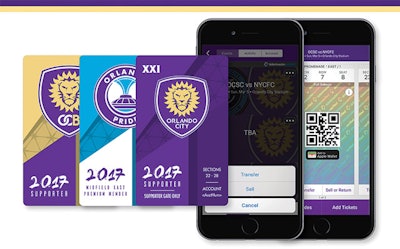 We love our phones. We love our teams. And we love engaging with our teams on our phones. This is how sports fandom operates in 2018, with fans using mobile-connected devices and social media to declare and share their passion.
It's commonplace for teams across all levels of sports to leverage social media to engage fans. At the professional level, many organizations also offer mobile apps that can deepen the feeling of connection for fans. These apps, often branded by the team, may represent the next stage in how sports teams operate in the digital age.
A pair of teams finding success with the branded app strategy are MLS's Orlando City Soccer Club and the National Women's Soccer League's Orlando City Pride, whose LionNation mobile app has more than 62,000 downloads and 40,000 unique registered users. Those are impressive numbers, considering that the men's team averages about 22,000 fans in attendance for each home game.
What started as a move toward paperless ticketing has evolved into an effective marketing and revenue-generating opportunity for the clubs.
Designed in tandem by sister companies Concepta and FanHero, LionNation delivers Orlando City fans an experience unlike what they get from other sources — what Renato Reis, the club's chief information officer, calls "open" or "public" social media. Orlando City's follower counts on Facebook, Twitter and Instagram total more than 1 million, but those followers are missing out on what the LionNation app offers.
"Of course, we have a tremendous presence on social media in general," Reis says. "But in reality, we don't get the knowledge of our followers, or the engagement is questionable. Is there a dialogue? Is there an exchange, really?"
To encourage and incentivize the type of dialogue Reis desires, the club developed a point system. LionNation members can answer trivia questions in exchange for points, which can then be redeemed for prizes like merchandise and in-venue experiences. Since the app also serves as Orlando City's ticketing platform, the club is considering developing a loyalty program, similar to those offered in other industries.
"If you come to a certain number of games, you're going to be a Gold Lion. If you come to all the games in a season, you're a Platinum Lion," Reis says. "The airlines, the hotels, they've done this for years, they're extremely successful, and we're going to try to mimic that."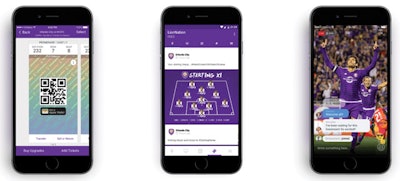 In addition to the points and loyalty programs, premium LionNation users get access to exclusive content that is unavailable anywhere else.
"We produce a ton of content that just people who pay the membership will have access to," Reis says. "It's an organic system, so as we learn what people want to consume, we're going to produce more and more of that. The intent is to provide pay-per-view access to premium members."
Of course, social media remains a key part of the club's marketing efforts. "The idea is that the open social media become our teasers, not more than that," Reis says. "We want to drive traffic to our app."
The additional revenue that premium users generate is only one part of the club's app strategy, however. Providing a great mobile app experience can be fun for users, but the team gets something in return: precious user-generated data that can provide insight into an individual's behavior.
"When you go for your own platform, your own branded app in this case, the greatest benefit is that we own that experience and we own that data," Reis says. "We are trying to drive our public into our environment so we can drive a little bit more of that relationship, try to understand what they really want."
Branded mobile apps make sense at the professional level, but Concepta CEO and FanHero co-founder Humberto Farias thinks that lower levels of sports and athletics could find similar success.
"The digital revolution is about taking the experience beyond the physical infrastructure to the digital infrastructure," Farias says.
The universe of fans of a particular professional team is likely to remain fairly constant. In Orlando City's case, Farias says the reach is about 500,000 people. But at the college or high school level, a new crop of freshmen, full of school spirit, flow onto campus each year, and the alumni base grows ever-larger. "It's absolutely worth having an app for sports programs for that kind of ecosystem."
Powerful mobile technology can help address some of the issues that currently exist at the lower levels, as well. These days, many streaming platforms that broadcast high school games struggle with quality, but Reis says mobile tech platforms can solve that problem and others "in a heartbeat."
Farias agrees. "As tech becomes less expensive and companies like Concepta with platforms like FanHero begin to appear and substantially reduce that cost, it allows for smaller organizations such as colleges and high schools to deliver that kind of experience in a much more affordable format," he says.
Orlando City is also hoping that by developing this mobile technology in 2018, the club will be prepared for possible changes in the broadcast media landscape before they arrive. Should those changes come to pass, Orlando City, like its lion mascot, will be ready to pounce.
"We see the area of possibility where we can sell our games à la carte and sell worldwide," Reis says. "Of course, there are rights limitations right now, but I think the industry as a whole will move in a different direction, and we want to be prepared when that becomes available."
---
This article originally appeared in the May 2018 issue of Athletic Business with the title "How teams are leveraging mobile apps for fan engagement, revenue and data." Athletic Business is a free magazine for professionals in the athletic, fitness and recreation industry. Click here to subscribe.