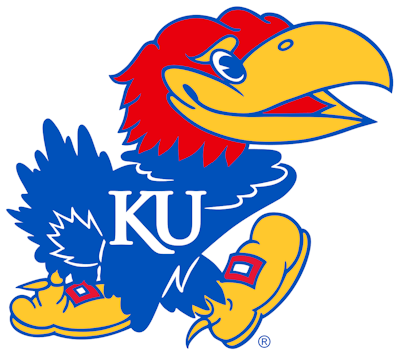 Colleges and universities across the country have struggled to convince fans to stick around for the duration of football games. On Saturday, the University of Kansas opened its stadium gates to incoming ticketless traffic for most of the second half of the Jayhawks' game against No. 3 Oklahoma.
As reported by the Topeka Capital-Journal, Kansas led the game at halftime, 10-0, and carried a 17-10 lead into the fourth. It was 1:15 p.m. — more than two hours after the game kicked off before 47,000 mostly empty seats — when KUAthletics tweeted, "The gates are open on the east and west sides of David Booth Kansas Memorial Stadium, no ticket required. Show up. Be loud. Rock Chalk."
An announcement was also made over the stadium public address system, according to Brobible, which pointed out that it was Kansas' first lead against a ranked opponent since 2014 and its first lead against a top-five team since 2008. Kansas football had not won an FBS football game since early 2019. The Jayhawks hadn't beaten Oklahoma since 1997.
The spur-of-the-moment promotion worked — to an extent. The stands did fill in, but alas, the unbeaten Sooners, who entered the game having scored 30 or more points in 34 consecutive road games — outscored the Jayhawks, 21-6, down the stretch to post a 35-23 victory. Kansas held advantages in total yards, first downs and time of possession.
"Nonetheless, the move was unprecedented. Kansas opened the stadium and let anyone from anywhere of any age, gender and race pour on in for free," wrote Brobible's Grayson Weir. "But it does raise one question— what happens with those who paid for tickets? Do they get a refund?"