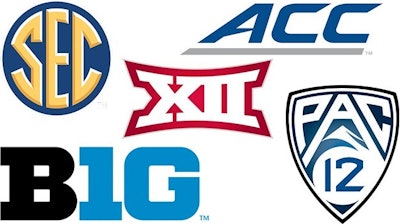 Murray State University held an event on Monday to celebrate its recent announcement that the Racers would be joining the Missouri Valley Conference.
As reported by the Paducah Sun, the event featured a panel discussion with Murray State officials and the MVC commissioner, as well as a video production of past and present Racers sharing congratulations to the school and their thoughts on what it has meant to be a part of the original Ohio Valley Conference and the changes ahead. The event welcomed Racer fans and alumni to the CFSB Center, Murray State's 8,600-seat arena, and was also televised on ESPN+.
But just how many schools that decide to jump conferences are celebrating after the fact? That's a question Stephanie Herbst-Lucke of Georgia State University's Robinson School of Business sought to answer when she surveyed the college landscape from 2009 to 2017 to see the impact shifting conferences has on a given school's acclaim and revenue.
"We found that universities that changed conferences neither increased earned revenue nor decreased debt, compared to universities that stayed put," Herbst-Lucke told University Business. "The economic mission, athletic performance and brand outcomes described in academic literature and anecdotally are not [improving]. In no other category would iconic brands voluntarily disrupt successful, long-standing relationships."
As reported by UB's Chris Burt, Herbst-Lucke spent four years worth of qualitative and quantitative research on the topic as part of her doctorate dissertation. Add to that 30 years as a business leader plus her time as an All-American track athlete at the University of Wisconsin, and she has a lot of background in both the Big Ten and college athletics, according to Burt.
For the study, she teamed with Paul Salipante and Kalle Lyttinen of Case Western Reserve University and Dr. Robert Mayberry of Georgia State to glean information from 82 sources, including conference commissioners, athletic directors and experts including those representing the Power Five conferences — the SEC, Big Ten, Big 12, Pac-12 and ACC.
From the interviews, 82 percent said conference changes led to a dilution of mission, purpose, value and ethics. Another 76 percent believed the university brand had been depleted, and 90 percent said that because there had been such a disconnect from the brand and mission, the system was not sustainable.
"They're putting athletics ahead of academics," Herbst-Lucke says. "They're depleting academic revenue and reserves to continue to support a system in which 90 percent of those in it are not solvent. That's crazy. They're diverting funds from education to cover these losses. All the literature suggests that there are these huge conference distribution numbers that the schools are going after to get a huge influx of revenues. But it's actually not the case."
Only two institutions during the 2009-17 period managed to show positive gains. One was the University of Missouri, which joined the SEC, won three division titles during that stretch and saw a 321 percent rise in postseason revenue. After 2013, when its win-loss ratio declined, it showed no improvement. The other was Rutgers University, which joined the Big Ten and saw huge jumps in sponsorship and licensing.
Conference switches are also not overwhelmingly welcomed by fans, who are confused and frustrated by conference realignments.
"The Big Ten changed a 122-year-old brand and then they retained the name," Herbst-Lucke told UB. "They changed the rivalries. Now you've got schools like Wisconsin not playing Michigan or Ohio State every year, which changes attendance. Ticket sales alone make up 28 percent of the overall revenue for an average athletic department. You get your tickets and how many games are you interested in? Maybe one or two? It's a risky venture when you start doing those kinds of things."
The most prominent recent example of conference shake-up is in the Big 12, which by 2025 will no longer include Texas or Oklahoma but will have newcomers Central Florida, Brigham Young, Houston and Cincinnati. Texas and Oklahoma believe the grass is greener in the SEC, but Big 12 commissioner Bob Bowlsby called the risky moves "delusional" in an interview with the Austin-American Statesman.
For colleges and universities that can't get into conferences such as the SEC, decisions to move elsewhere may nonetheless affect their brand, missions and academics — and not in the intended way.
"These 100-year-old systems are breaking apart even though, by nature, they are collaborative," Herbst-Lucke told UB. "These decision-makers have taken this very narrow lens of athletics. Of the top 25 ranked schools by U.S. World & News Report, not one of those schools tried to change conferences because their stakeholders are focused on academics. There's a story here that perhaps the espoused mission of a university is not academics. It's certainly questionable the way that they're spending the money."