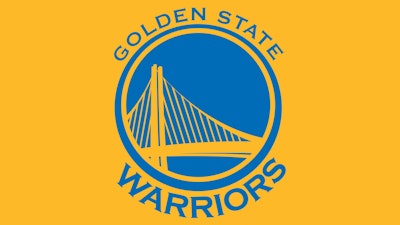 The NBA's Golden State Warriors are distancing the organization from remarks made on a podcast by one of the team's co-owners.
Chamath Palihapitiya, a venture capitalist and former Facebook and AOL executive, said during an episode of the "All In" technology podcast that he's more concerned with the state of the U.S. than he is about a genocide happening to the Uyghurs.
Nobody cares about what's happening to the Uyghurs," Palihapitiya said while addressing co-host Jason Calacanis, according to Yahoo Sports. "You bring it up because you really care. And I think it's nice that you care. The rest of us don't care.
"I'm just telling you a very hard, ugly truth. Of all the things that I care about, yes, it is below my line."
The Chinese government has been accused of genocide against the Uyghers, a Muslim ethnice group of around 12 million people native to Northwest China. The plight of the Uyghers received renewed attention after the United State in December announced a diplomatic boycott of the Olympic Games in Beijing.
Boston Celtics center Enes Kanter Freedom too issue with Palihapitya's remarks on social media, saying "When genocides happen, it is people like this that let it happen."
Calacanis brought up the brought up the Uyghurs during a broader discussion about American presidential politics, with Palihapitya contending that Calacanis was engaging in a "luxury belief" by worrying about international human rights.
"I care about the fact that our economy could turn on a dime if China invades Taiwan," Palihapitiya continued. "I care about climate change. I care about America's crippling and decrepit health-care infrastructure.
"But if you're asking me, 'do I care about a segment of a class of people in another country?' Not until we can take care of ourselves will I prioritize them over us."
The Warriors released the following statement Monday afternoon in response to the comments:
"As a limited investor who has no day-to-day operating functions with the Warriors, Mr. Palihapitiya does not speak on behalf of our franchise, and his views certainly don't reflect those of our organization," the statement reads.
For his part, Palihapitiya responded to the controversy by acknowledging that his comments sounded like he lacked empathy. "I recognize that I come across as lacking empathy," he said in a statement. "As a refugee, my family fled a country with its own set of human rights issues so this is something that is very much part of my lived experience. To be clear, my belief is that human rights matter, whether in China, the United States, or elsewhere. Full stop."
Palihapitiya wrote on Twitter in 2021 that majority owner Joe Lacob offered him a 10 percent stake in the Warriors for $25 million that he accepted prior to Lacob's purchase of the franchise in 2010.