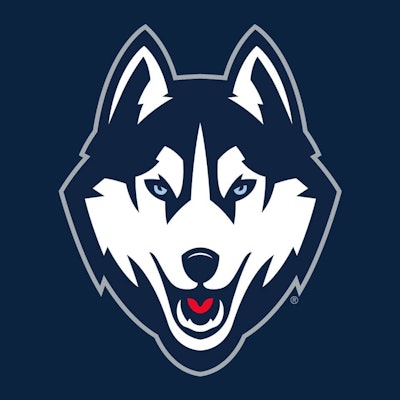 University of Connecticut basketball fans are not happy with the recent leap in ticket prices.
Season ticket renewal options were sent via traditional mail and email, and on Tuesday, season ticket holders responded on social media to express their dissatisfaction, according to a CT Insider report.
Many fans this week came to more clearly understand the ramifications of a price hike announced on March 7, the day the women's basketball team defeated Villanova for a conference title and three days before the men's team defeated Seton Hall in the Big East Tournament quarterfinals.
Many are seeing significant price increases and most are seeing a rise in donation requirements, too. The CT Insider reported on one couple whose season tickets for two seats in the last row of section 222 for games at Gampel Pavilion last season went from $297 to $715 for the same package. There is also a mandatory $100 donation included in those purchases.
'The Babcocks had two seats in the last row of section 222 for games at Gampel Pavilion last season. The overall cost for the same package, Megan Babcock said, has risen from $297 to $715 (with a mandatory $100 donation included in those purchases).' https://t.co/aUxCL7XhNu

— Wendy Metcalfe (@Wendy_Met) April 21, 2022
The changes are part of a new ticketing model that UConn says more properly aligns its athletic department with those of peer institutions — and helps meets the needs of rising costs and longstanding financial woes, the CT Insider reported.
A major component of that model is the reassignment of seating sections at Gampel and the XL Center to different price categories, taking, for instance, some seats out of the "Husky Value" price range and leaving previous customers with two options — pay more money to remain in a seat now categorized differently, or move to less-desirable seats in the new Husky Value areas.
The athletic department operated a deficit of $47 million last year, an all-time high, and a mandate is in place for the athletic department to reduce the subsidy by at least 25 percent in the coming years. Meanwhile, costs of running competitive programs in areas of salaries and resources continue to grow.
"We've been putting this on the back of the university forever," athletic director David Benedict said Wednesday, as reported by the CT Insider. "That's hard. We have to continue to reduce that. We haven't had the postseason success we'd like [in men's basketball], but certainly we've become a competitive program again and we expect to continue to be. Things have come a long way in a short period of time. We have to do what everyone else has done, which is increase tickets."
Benedict told the Insider he was aware of the conversations taking place online this week.
"I understand it and I appreciate why there's a level of frustration," he said. "At the same time, it's hard for people to understand all the nuances to what is required to compete at this level. The numbers speak for themselves relative to the revenues being generated by other institutions that our fans expect us to compete with. … We've got to become less reliant on the university and more reliant on our fan base in the way of ticket sales and donations. We realize and understand that if we're not successful, it doesn't work because people will stop paying."
UConn said 646 new season tickets have been sold (430 men's, 216 women's) since they went on sale about five weeks ago. On Tuesday alone, there were 835 renewals (500 men's, 335 women's).
"If the market won't support the new ticket prices, we'll have to evaluate that," Benedict said. "But the initial response with renewals has been quite good. If no one was buying new tickets and the response of the renewals was not as good, I think you'd have a bigger concern. But that doesn't seem to be the case."
Benedict said one change will be implemented as a result of concerns voiced by fans: Customers whose 2021-22 seats will be moved out of the Husky Value price range for next season will be offered back their seat from last season at the Husky Value price if that seat goes unpurchased at the marked-up 2022-23 price during the upgrade and renewal process.
"It's a tweak that we're making as a response to our fan base," Benedict said. "I do hear them. I do listen to them. It's not like their feedback is going unheard. This is something that I've talked to the staff about multiple times."