As athletics administrators, we have the ability to help shape society by influencing the values of those we mentor. In the high-pressure environment of college athletics, this is a fact that can sometimes be underappreciated. But remembering just how essential a role we play in the education of our student-athletes is more important now than ever.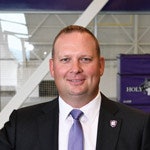 Education is at the heart of everything we do in collegiate athletics. Intellectual exploration and discovery, and promoting a sense of curiosity and active engagement in the world, is the call of our educational mission at Holy Cross. We believe that creating these connections between our learning in and around the classroom and our own personal experiences develops thoughtful and engaged human beings who understand the role we all play as global citizens.
We encourage all of our constituents to engage with the complicated topics that our society must face. We ask our members to turn their knowledge into action to contribute to the common good, and that starts right here at home.
Athletics can be a powerful platform to drive change, not just on each of our respective campuses, but in society and culture as a whole. The NCAA Board of Governors' policy on campus sexual violence represents one of those opportunities.
Changing a culture
Sexual violence exacts a huge cost on its victims, as well as their loved ones and communities, yet it continues to occur at an alarming rate. It is imperative that we act now. But changing a culture is an ambitious task, one that requires us to commit our resources and hold all of our members responsible for our unified campus safety.
At Holy Cross, we recognized the growing issue of sexual violence and our role in both education and prevention. Last year, we identified this area as a gap in the educational offerings we were providing for our student-athletes. With this knowledge, and in support of initiatives already being enacted on campus, we joined with CFM Partners to implement, among other things, a program to train our student-athletes, coaches and staff on this important topic.
---
More from AB: Advocate for Victims of Student-Athlete Gender Violence Urges Action
---
Providing a comprehensive educational experience is at the forefront of our daily work, and we are happy to see NCAA policies fall within that mission. Through this proactive partnership based in expanding our own educational goals, Holy Cross was compliant with the NCAA's sexual violence prevention and education policy before it was even announced.
We believe that this program is integral to running a responsible athletics department. Through this initiative and others, we believe we are fostering an inclusive, positive and empathetic culture built on respect for oneself and others.

An obligation to protect
As leaders in athletics administration, we must work with our colleagues on campus to address the ongoing issue of sexual violence. We have an obligation to protect our student-athletes and staff and ensure that our campuses will always be a haven, both physically and emotionally, for everyone. By taking a collaborative approach and working with other leaders in our communities, we can reduce occurrences of sexual violence and continue to address its devastating effects.
---
More from AB: Culture Shock
---
At Holy Cross, we will continue to be clear and consistent in prioritizing the need for all student-athletes and staff members to commit to sexual violence prevention. This is an issue that we — and many others in the athletics community — take seriously, and we will continue to reinforce our commitment until not a single person lives in fear.
The NCAA's sexual violence policy requires
that the chancellor/president, director of athletics and Title IX coordinator must annually attest that:
• The athletics department is fully knowledgeable about, integrated in, and compliant with institutional policies and processes regarding sexual violence prevention and proper adjudication and resolution of acts of sexual violence.
• The institutional policies and processes regarding sexual violence prevention and adjudication, and the name and contact information for the campus Title IX coordinator, are readily available within the department of athletics, and are provided to student-athletes.
• All student-athletes, coaches and staff have been educated on sexual violence prevention, intervention and response, to the extent allowable by state law and collective bargaining agreements.
---
This article originally appeared in the November|December 2017 issue of Athletic Business with the title "Education is imperative to prevent sexual violence on campus." Athletic Business is a free magazine for professionals in the athletic, fitness and recreation industry. Click here to subscribe.