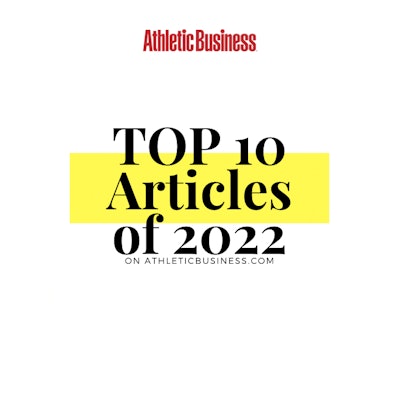 Catch up on the top 10 most-read stories from this year on AthleticBusiness.com:
1. Can You Contract Monkeypox at the Gym?
As the government and health authorities mull an appropriate response to the growing number of monkeypox cases around the country, information on how the virus is spread has been hard to come by...
2. New Grambling State Volleyball Coach Cuts Entire Team
Grambling State University's new head volleyball coach Chelsey Lucas has decided to cut the entire team...
3. Failure to Pull Concussed Player from Game Costs District $600K
Among the biggest issues facing sports administrators over the past decade is the long-term effects on athletes of concussions and subconcussive blows to the head. From youth sports to the professional level...
4. NCAA Moves to Nix Test Score Requirements for Athletes
Divisions I and II have taken another step toward removing standardized test scores from initial-eligibility requirements for future student-athletes...
5. High School Football Player Dies During Practice
Brandon (Miss.) High School football player Philip Laster, 17, died after collapsing during an afternoon football practice...
6. Wisconsin Investigating Leaked Photos, Videos of Volleyball Players
The University of Wisconsin athletic department is investigating how photos and videos of the women's volleyball team were leaked without the players' consent...
7. AD Admits Colorado Can't Yet Cover Salary Offered Deion Sanders
As a former two-sport professional athlete, Deion Sanders is no stranger to money, and it would appear his new ship has just come in...
8. Which College Athletes are Making NIL Money, and How?
How much money college athletes are making through name, image and likeness deals varies widely by the individual's (and in some cases an entire team's) status, sport and level of competition. No surprise there. But how the compensation actually shakes out can be quite interesting...
9. Was Noise Level at Neyland Stadium Dangerous During Iconic Game?
A new noise-level record was set at Neyland Stadium, where the University of Tennessee upset the Alabama Crimson Tide for the first time in 15 years, causing Volunteers fans to storm the field, tear down the goalposts and toss them into the Tennessee River in the post-game aftermath...
10. Stanford Apologizes for Band's Offensive BYU Halftime Show
The Stanford University athletic department issued a statement to Brigham Young University's student newspaper regarding a halftime show performed during Saturday's football game between the teams at Stanford Stadium, saying it "did not reflect Stanford University's values of religious freedom and diversity, inclusion and belonging."