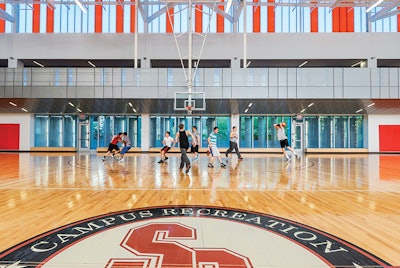 Walter J. Hawrys Campus Recreation Center | Stony Brook University |
Stony Brook, N.Y.
What a difference color can make. More than half of the judging panel considered this project "bold," most notably for its expression of color. One judge went so far as to call the facility's exterior "iconic."
The palette that appears on the building's skin is repeated on the interior, creating a cohesive theme of horizontally and vertically stacked red, gray, gray-black and black panels appearing in everything from day lockers to glazing.
Connected to an existing athletic center and the student union, the campus recreation center succeeds in establishing its own identity. In the end, the desire of designers to create a "wow" factor through the use of multihued red panels and glazed concrete block was rewarded.
View the full photo gallery>>>


Judges' Comments:
The layout and flow of the building is clear, and the interiors do a great job of integrating with the exterior aesthetic.
— Bill Baker
The bold gesture of the red skin distinguishes this facility from the collection of uninteresting buildings surrounding it.
— Erik Kocher
One of my favorite gymnasium spaces. Great quality of light. Design and color palette consistent throughout.
— Jeff Piette
ARCHITECT OF RECORD
Sasaki Associates | Watertown, Mass.
Cost: $28.6 million
Square Footage: 90,000
Funded By: University funds
Major Facility Components: Gymnasium, multipurpose activity court, fitness areas
The 2014 Athletic Business® Facilities of Merit™ awards were selected by a panel of sports and recreation facility architects during two days of judging in Madison, Wis. The 10 winners are being announced during these two weeks, and profiles of all 10 will appear in the November issue ofAthletic Business. The awards will be presented to the facility owners and architects at the Athletic Business Conference & Expo in Orlando on Friday, Nov. 14.
More 2014 Facilities of Merit:
Auburn University Recreation and Wellness Center
Chinguacousy Sports Park Redevelopment
Cornell Community Centre & Library
Crisler Center Renovation & Addition -- University of Michigan
David Braley Athletic & Recreation Center -- Mohawk College
France A. Cordova Recreational Sports Center -- Purdue University
Holaday Athletic Center -- U.S. Air Force Academy