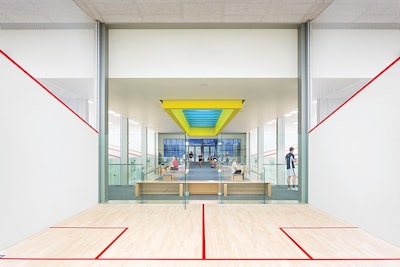 Middlebury College Squash Center |
Middlebury, Vt.
There are upgrades, and then there is the Middlebury College Squash Center, which replaces an air-supported structure incapable of hosting tournaments.
Adding four international courts to the old structure's original five, the new center also includes amenities not offered before — from tiered spectator seating to a coach's office. The building's permanence is articulated on the exterior with a board-formed concrete base topped with textured cement fiberboard, and a central skylight illuminates the interior. The squash center connects to a larger athletic complex, extending its spine and serving as a new entrance and lobby.
"Elegant" came to mind for three judges, while a fourth called the project "a true gem."
View the full photo gallery>>>

Judges' Comments
This project takes a straightforward program and maximizes its potential to transform the existing facility and to connect with the site.
— Darryl Condon
Elegant use of form and material. Very successful approach with restraint and simplicity.
— Stephen Springs
Fantastic use of controlled daylighting throughout the facility.
— Colleen McKenna
ARCHITECT OF RECORD
ARC/Architectural Resources Cambridge | Cambridge, Mass.

Cost: $6.5 million
Square Footage: 17,775
Funded By: Private donations
Major Facility Components: Nine international squash courts, spectator seating, fitness area, coaches office, entry lobby
The 2014 Athletic Business® Facilities of Merit™ awards were selected by a panel of sports and recreation facility architects during two days of judging in Madison, Wis. The 10 winners are being announced during these two weeks, and profiles of all 10 will appear in the November issue ofAthletic Business. The awards will be presented to the facility owners and architects at the Athletic Business Conference & Expo in Orlando on Friday, Nov. 14.
More 2014 Facilities of Merit:
Auburn University Recreation and Wellness Center
Chinguacousy Sports Park Redevelopment
Cornell Community Centre & Library
Crisler Center Renovation & Addition -- University of Michigan
David Braley Athletic & Recreation Center -- Mohawk College
France A. Cordova Recreational Sports Center -- Purdue University