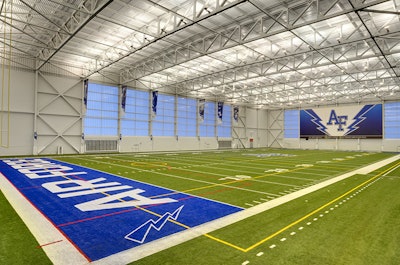 Holaday Athletic Center |
U.S. Air Force Academy |
USAFA, Colo.
Standing six and a half stories tall and housing a regulation-size football field, the Holaday Center makes an impression based on size alone, but its design specifics drew accolades from judges.
Most notably, the facility's use of an innovative translucent material, a strategically placed sunscreen along the western wall and natural ventilation simulate game conditions without any mechanical heating or cooling specified in the design. Exterior use of anodized aluminum, polished precast concrete and clear glass allow this massive structure to fit well within the midcentury modern USAFA campus.
Putting the Holaday Center in the context of peer facilities, one judge stated, "Hard to make an indoor field stand out, but this one does."
View the full photo gallery>>>


Judges' Comments
Honest response to the academy campus. Strong use of natural environmental conditions to define orientation and design.
— Bill Baker
A very simple idea that is executed expertly. Great sustainability features while also taking advantage of scenic vistas.
— Clarence Mamuyac
Very good design that elevates a utilitarian building to a solid piece of architecture.
— Darryl Condon
ARCHITECT OF RECORD
CannonDesign | Washington, D.C.

Cost: $19 million
Square Footage: 92,000
Funded By: University funds
Major Facility Components: Regulation-size football field
The 2014 Athletic Business® Facilities of Merit™ awards were selected by a panel of sports and recreation facility architects during two days of judging in Madison, Wis. The 10 winners are being announced during these two weeks, and profiles of all 10 will appear in the November issue ofAthletic Business. The awards will be presented to the facility owners and architects at the Athletic Business Conference & Expo in Orlando on Friday, Nov. 14.
More 2014 Facilities of Merit:
Auburn University Recreation and Wellness Center
Chinguacousy Sports Park Redevelopment
Cornell Community Centre & Library
Crisler Center Renovation & Addition -- University of Michigan
David Braley Athletic & Recreation Center -- Mohawk College
France A. Cordova Recreational Sports Center -- Purdue University