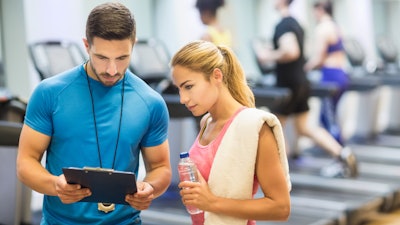 When I present on customer experience, I often remind an audience that all fitness facilities are the same. They all have cardio equipment, strength training machines and accessories, group exercise classes, personal training and other, similar amenities. And for the most part, they all offer the same thing: A promise to help people improve their lives through fitness.
While this is an exaggeration, it's also a common perception, and perception is reality. The average consumer may not realize that a facility has superior exercise equipment, more qualified trainers or safer group exercise classes. How then can a facility differentiate itself from the competition?
My answer? By creating a superior customer experience.
Levels of customer expectations
Several factors go into creating an unparalleled customer experience. An organization's culture must be wrapped around customer experience and infused within the entire team.
The hiring process must involve finding team members already adept at customer service. Further customer service skills training must be a considerable part of the onboarding process. And these skills should be reinforced through consistent training and coaching.
Facilities should use surveys and feedback to assess member needs, then look for ways to surprise and delight members — thus exceeding their expectations. Evaluations of team members should lead to expressions of appreciation and gratitude to those who deliver excellent customer service.
These are just a few components that need to be present for an organization to be known for its one-of-a-kind customer experience.
In my quest to continually level up my customer experience knowledge and to add to my customer service toolbox, I recently read the book "The Elements of Great Managing" by Jim Harter. While the primary topic was management, it offered a unique look at four other elements, referred to as levels, that help organizations understand how to exceed customer expectations. These levels come from extensive Gallup research and data, and provide even more insight into creating the best customer experience possible.
Level 1: Accuracy
Customer experience starts with accuracy. The customer gets what the customer expects to get.
At a restaurant, this means an order comes out correctly. An Amazon order arrives on time and contains the proper items. Applying "accuracy" to a fitness facility means billing is correct, classes occur as scheduled, the app works properly, and so on.
Accuracy is simply all the basic promises and expectations happening as they should. It doesn't matter how friendly the staff is, if accuracy isn't there, you are lost from the start.
Level 2: Availability
The next thing customers expect is availability. I always tell my children who play sports that the best "ability" is "availability."
The importance of availability cannot be neglected. Bank customers expect convenient locations to be available for their use. A retail store customer would expect adequate parking to access the store quickly. Examples of availability in a fitness facility setting would be to provide convenient hours, a wide-ranging class schedule, and staff to help and to answer questions.
Like accuracy, if there isn't the desired availability, no level of friendliness can overcome it. If you aren't available, nothing else matters.
Level 3: Partnership
Customers want to feel like you are on their team. They want to be heard, and they desire organizations to be responsive.
Airlines create reward programs with perks for frequent flyers to demonstrate strong partnerships. Stitch Fix, a clothing styling and delivery service, continually recognizes buying patterns to improve what the customer receives. Next time you see me present at AB Show, know that Stitch Fix most likely styled me. It is an excellent service for the fashionably challenged — like me.
Fitness facilities can form partnerships by ensuring customers receive an engaging, warm welcome and a fond farewell that makes them want to return. Surveying members demonstrates partnership by giving customers a voice and showing that their opinions matter. Providing reward and recognition systems for members also creates a feeling of collaboration.
Customers don't want to feel like it is "them and you." They want that feeling of "us." Taking these steps to create a "partnership" goes a long way in a customer's eyes.
Level 4: Advice
Advice is the most advanced of these four levels. Customers want to learn and grow with an organization.
Home Depot may be a retail store, yet it offers training programs for customers to help them improve at DIY projects. Accounting firms often offer customers financial planning classes and tools, in addition to their typical tax preparation services.
If you want to succeed at this level within your organization, try adding specialized seminars, guided training apps, and a comprehensive new member onboarding program to teach them all there is to know about your fitness facility.
Consumers want to learn from organizations with whom they interact. Get creative and implement strategies to help them learn.
Set your facility apart
In summary, make sure you deliver what you say you will. Ensure customers can use the facilities and amenities when they want to and when it is convenient for them. Take steps to include members, so they feel as though they belong. And always provide opportunities so customers can grow and feel accomplished.
Combining Harter's four levels of customer expectations with the items I mentioned in this article's introduction will allow an organization to provide an experience that sets it apart from the competition. It will significantly enhance the overall customer journey — from being brand aware to becoming raving fans.
My challenge to you is to look over your current organizational strategy and ask yourself if you are succeeding at the basics of delivering a great customer experience. Are you delivering an accurate product and service, providing top-notch availability, ensuring your customers feel like partners, and consistently offering advice? If you are, keep it up! If not, strategize how to improve at those levels. Make a list of where you may fall short, and then brainstorm ways to improve those deficiencies with your team.
In a crowded marketplace, where consumers may perceive facilities to be very similar, investing time into creating a superior experience will go a long way in setting your facility apart, leading to long-lasting success. While it takes time and resources, it is well worth the effort. The return on investment is huge.