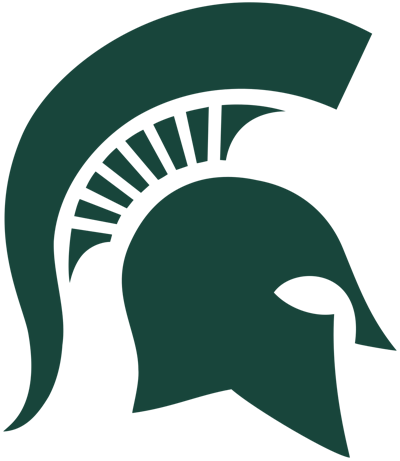 The Michigan State University athletic department's partnership with Caesars Sportsbook is ending four years ahead of schedule.
As reported by Graham Couch of the Lansing State Journal, the sponsorship contract with Caesars was worth close to $9 million to MSU.
"Initially, it was a good thing, but I don't think it's in our best interest moving forward," MSU athletic director Alan Haller said of the partnership.
"Some things have changed since the deal was originally signed in January 2022 between Caesars and MSU's multimedia rights partner Playfly Sports," wrote Couch. "For one, there's different leadership at the top at MSU. There have also been a couple high-profile sports betting scandals elsewhere in college athletics — with Alabama's baseball coach, who lost his job, and with 41 athletes at Iowa and Iowa State, who by NCAA rule, aren't allowed to bet on sports that the NCAA sponsors, even if it's not their sport."
Related: Alabama Fires Baseball Coach Bohannon Amid Betting Scandal
Just last week, two University of Cincinnati baseball officials were fired for not reporting knowledge they had of a team parent's gambling activity.
Related: U. of Cincinnati Fires Two Baseball Officials for Failure to Report Gambling
"That those situations were flagged, it should be noted, are examples of the system working," Couch wrote, adding, "Still, I can understand MSU wanting to walk away from this and why many folks never liked the partnership to begin with. It doesn't feel like a great fit with the mission of higher ed. Yet, it's also an odd line to draw considering all the things we accept (and participate in) with the rest of major college sports — the recruiting meat market, the absurd coaching salaries, the donations that could do more good elsewhere in our communities, the sometimes unhealthy and irrational obsession with one's alma mater.
"And whether Caesars or any other sportsbook is a partner with MSU or any other major athletic program, sports wagering is indirectly part of the budget. The Big Ten's media rights deal wouldn't be so flush if it weren't for the number of eyeballs FOX, CBS and NBC knew they could count on. If you think it's just the beauty of the game and the passion of the fan bases that's drawing the audience, I've got some oceanfront property in East Lansing to sell you. If you've ever wondered why Mid-American Conference football can draw 700,000 viewers on a random Tuesday night, when neither school can get 5,000 fans in the stadium, it's not the high-quality football that's bringing in the TV ratings. Nor is it in the Big Ten."
As for Michigan State, it says it will make up the lost sponsorship revenue from other sources.
"From a financial perspective, we feel that there will be growth in other sponsorship categories that will take over inventory that was allocated to this particular client," Paul Schager, MSU executive associate athletic director for external relations, said.