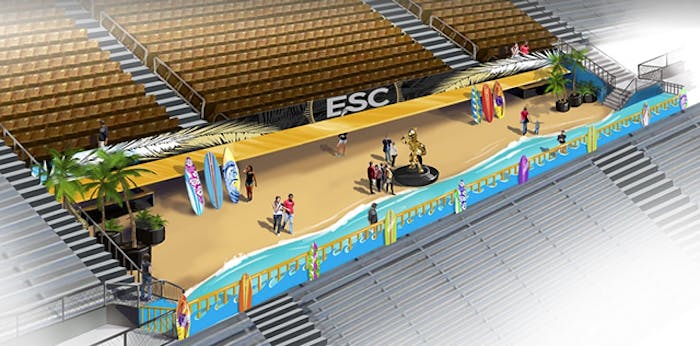 Editor's Note: This story has been updated to include comments from UCF's assistant athletic director of communications, Andy Seeley.
The University of Central Florida made news Monday with the announcement of its new "East Side Club," a beach lounge that will be built in the middle of the school's football stadium seating.
While the school offered few details, the 10,000-square foot club, located between the 30-yard lines will apparently try to convince fans they are at the beach, rather than in a football stadium in the middle of Florida. One detail the school did provide was that the section will include "an assortment of frozen drinks."

Before I dive in, let me preface my comments by saying this: I'm all for creativity in college sports facilities. More than ever, university athletic departments are being forced to get creative to win the entertainment dollar of their fans and keep them coming back for more. So whether it's a new video board, serving liquor, adding seating options or installing teal turf, I applaud schools for investing in improving the fan experience.

But at some point you have to draw a line in the beach club sand. And UCF's gimmick is so far over the line it's drowning in its faux ocean.

It's a gimmick that only cheapens the UCF football product. It screams, "Don't come because you support the Knights, come for our drinks!" UCF will no longer be known as the school with a solid football program, but that school with the beach in the middle of its stadium.

The club is even being designed by the same company that designed Jimmy Buffet's Margaritaville.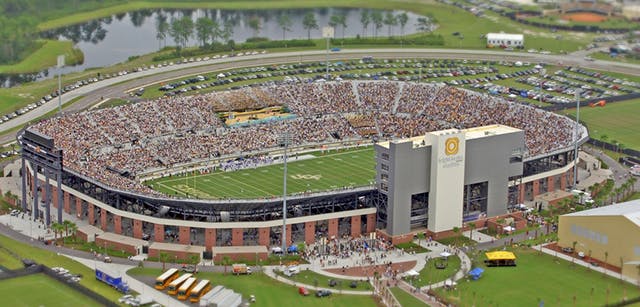 But most of all, I feel bad for the players. Nothing says "big-time" college football atmosphere like looking up to the stands on a crucial play and instead of a raucous crowd cheering you on, seeing a bunch of Tommy Bahama-clad boosters sipping fruity drinks with their toes in the sand. Can you say buzzkill?

Not to mention UCF is about 50 miles from the nearest beach.

UCF argues the East Side Club "will serve as a showcase for why UCF and Central Florida are great places to live, work and play."

I get that. And my problem with the club isn't the idea — the branding of it is beautiful — it's the location. In the end zone, I could roll with it. In an upper deck corner that usually goes unsold? Great idea. On a plaza outside the stadium? Wonderful, I'll bring the sunscreen. But between the 30s half way up the seating bowl? My first reaction was that whoever approved this has had one too many Mai Tais. However, UCF says the location was chosen for very specific reasons.
"If you've ever been to Florida in the late summer or fall and sat on our east side, it can get really hot," UCF assistant athletic director Andy Seeley told AB. "On a hot day no one sits there."
Seeley's update clarified a few things not included in the school's initial release.
"We're basically sold out of premium seating areas for our fans," he said. "So we've given them a covered area to get out of the sun, a comfortable seat and somewhere where they can enjoy a drink which wasn't possible previously."
And while the beach club's central location may not scream "intimidating atmosphere," UCF officials say this is by design. "Our athletic director (Todd Stansbury) wanted this in a place where it's instantly visible on TV," Seeley said. "We want people up north late in the season to see that and think of Florida and think of UCF."
As someone who lives in Madison, Wis., he has a point.
"This has already generated a ton of buzz," Seeley said. "The phones are going nuts."

Despite UCF's reasoning, the fan in me still says the East Side Club is too theme park-esque, even for Orlando. The University of Southern California developed a premium "toes-on-the-turf" seating area last year that was met with critical acclaim. Mississippi State renovated its stadium to include several tiers of premium seating options to accommodate fans of all income levels. The Washington Huskies introduced a special "Off-Leash Deck" where beer and wine are sold. There are creative ways to bring in revenue and provide a unique experience short of installing a beach bar in the middle of the seating bowl.

UCF has a very good football program. One that has gone 31-9 in the last three seasons including a win over Baylor in the 2014 Fiesta Bowl. At a large university (enrollment is nearly 60,000 students) a team that wins consistently and plays in a nice facility (Bright House Networks Stadium opened in 2007) will lure fans, with or without a beach bar.

But apparently I've got my head in the sand.

RELATED: Schools Strategize to Increase Student Football Attendance