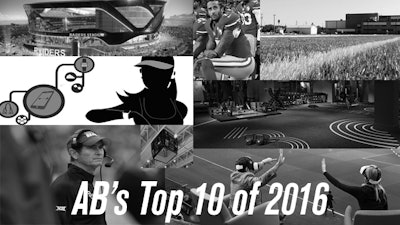 It was another eventful year in the athletics, fitness and recreation industries in 2016. Take a look at some of the top highlights that we covered at AB this year.
Eye-popping Behavior in HS Athletics
The world of high school athletics can provide some of the strangest stories that we cover online, and this year was no different. In 2016, we saw a girls' basketball blowout of 108-1, and a bench-clearing brawl that sent some girls to the hospital. We reported on coaches crossing the line by turning pitching machines on players, a swim club hiring some 'unique' entertainment for their team banquet, and a student-athlete earning herself a suspension with a single tweet.
Functional Fitness
We're always keeping our eyes out for fitness industry trends, and in 2016 one trend stood out: functional fitness. Gym-goers are more likely than ever to want to get in a dynamic, functional workout, and we told fitness club operators how they might consider bringing these offerings into their facilities. In weight rooms and mainstream clubs alike, functional fitness seems to be a trend that will continue into 2017 and beyond.
Tech in the Industry
Tech continues to disrupt and drive the athletic, fitness and recreation industries, and we were all over it in 2016. Virtual reality is a compelling option for sports fans looking for a unique look at the game, and the technology can allow for recruits to "visit" college campuses from their living rooms. Wearables, data and smart tech have made their way into the gym, providing unprecedented possibilities for the fitness space. Mobile apps like the 2016 smash hit "Pokemon Go" are getting gamers off the couch and into sports venues and parks. What impact will tech make on our industries in 2017?
Rio Olympics
In 2016, the South American continent played host to the Olympic Games for the first time. AB followed the action before, during and after the Games — from concerns over the Zika virus, to the mad dash to finish venues and facilities, to the mysterious green pools, to breaking down the top moments from the Games on social media.
We also took a look at what's going to happen to Rio's Olympic venues now that the Games have moved on.
Tumult in the Turf Industry
This year was a tumultuous one for the synthetic turf industry. Concerns (however unfounded) about the safety of crumb rubber infill spooked some potential customers, and AB was there to follow the industry's response. More recently, synthetic turf groups have sought to assuage fears about the products they advocate by adopting new safety standards.
That wasn't the end of the industry's concerns, however. Lawmakers investigated whether a major turf company knowingly sold defective product.
Taking a Knee
Typically, the National Anthem as played at sporting events is not newsworthy. Not so in 2016. Inspired by San Francisco 49ers quarterback Colin Kaepernick, athletes and others involved in sports at every level protested racial injustice during the anthem by taking a knee. Other professional leagues weighed in, college athletes followed Kaepernick's lead, and a group of high school cheerleaders got involved. Responses to these protests varied, and it's likely the conversation will continue into the new year.
Rams Relocate, Will Others Follow Suit?
In January 2016, after months of planning and posturing, the NFL's Rams formally announced their intention to move from St. Louis back to Los Angeles. AB outlined the process, and was there to cover the fallout, including reaction from St. Louis fans and Missouri lawmakers.
Meanwhile, other teams interested in new stadiums unveiled their ideas. The Chargers released renderings of a proposed $1.8B stadium for voters to consider in San Diego (the measure failed), and the Raiders released renderings for a proposed stadium in Las Vegas.
U.S. Bank Stadium's Inaugural Season
While other NFL franchises considered new stadiums conceptually, the Minnesota Vikings actually debuted their brand new stadium in 2016. AB was there when the plans were first unveiled in 2013, and we followed the new venue through legal issues and construction problems. We also detailed the unique material that makes up the stadium's roof, and had a one-on-one discussionwith the stadium's director of events services, Billy Langenstein.
Baylor Scandal and Fallout
Prior to the 2016-17 college football season, the Baylor University football team, which had morphed from laughingstock to powerhouse in the Big 12 under coach Art Briles, was embroiled in a sexual assault scandal that shook up leadership throughout the institution.
AB followed the scandal every step of the way, including Briles' firing, which became one of our most-popular stories of the year.
Fair Labor Standards Act
The U.S. Department of Labor announced in 2016 that it would plan on setting a new minimum salary in order to exempt employees from receiving overtime payment under the Fair Labor Standards Act. The rule would have more than doubled the minimum salary required for overtime exemption — from $23,660 to $47,476 — meaning that employees making a salary beneath that exemption would've been eligible for overtime pay. We helped employees and employers alike to understand the change, which had been set to take effect Dec. 1, until a federal court blocked the rule change with a preliminary injunction in November. We'll be keeping our eyes on this story, and how it will impact the industry, as the legal battle rages into 2017.